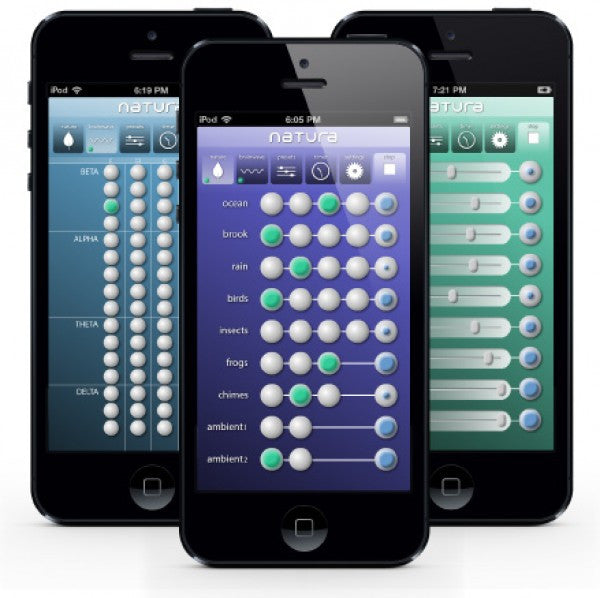 Created by Cameron Limbrick. For iPhone, iPad, iPod Touch, Android, Kindle Fire (PC and Mac Version Coming Soon!)Your paradise of blissful relaxation is just one app away! The original and ever popular Natura Sound Therapy is now mobile, just like you!
World class athletes know what "being in the zone" is all about. Now, so can you. When ever and where ever you choose.
With Natura Sound Therapy you can….
Immediately start to relax with 34 original and amazing Nature and Music Sounds. These expertly recorded, high fidelity, seamless sounds include: Ocean Waves, Babbling Brook, Rain/Thunder Storm, Singing Birds, Insects, Chirping Frogs, Wind Chimes and Ambient Space 1 & 2.
Entrain your brain utilizing 64 pure digital master Brainwave Synchronizer Tones that encompass the realm of Beta, Alpha, Theta, and Delta waves.
Quickly accelerate your training and focus by using the 38 easy Quick Start Factory Presets that include the popular: Wide Awake, Energy Boost, Peak Awareness, Brain Refresher, Supreme Concentration, Mental Stimulation, Pick Me Up, Creative Visualization 1 & 2, Deep Meditation 1-4, and Immune System Boost.


The benefits of Natura Sound Therapy are as endless as they are rewarding. Here are a few of the most popular uses of Natura Sound Therapy:
Get a full night's sleep.
Use as a meditation aid.
Help yourself study or concentrate.
Relax while you work at your computer.
Overcome writer's block.
Help a baby get to sleep.
Calm your pets.
Decrease anxiety.
Clear the cobwebs from your mind.
Heal yourself.
Drown out distracting noises.
and 1000's more uses...
 
Superior Quality that is Proven and Trusted by Users Everywhere.
Natura Sound Therapy is the official mobile device application from Blissive! The same trusted relaxation and mind focusing sounds that you have been practicing with for over a decade are now available for your favorite mobile device!Natura Sound Therapy is the original, professional sound therapy training module selected by and used in world-class spas and yoga studios around the world. In fact, Natura Sound Therapy has long been widely used for its powerful relaxing benefits in the fast paced, high stress environments of motorsports and military action.
Features:
34 Amazing Nature and Music Sounds
64 Trusted Brainwave Synchronizer Tones
38 Easy Quick Start Factory Presets
36 User Customizable Presets
Countdown Timer
Customize the interface using your favorite color